Depth of Burial monitoring
Are you aware of how deep your power cables are buried in the seabed?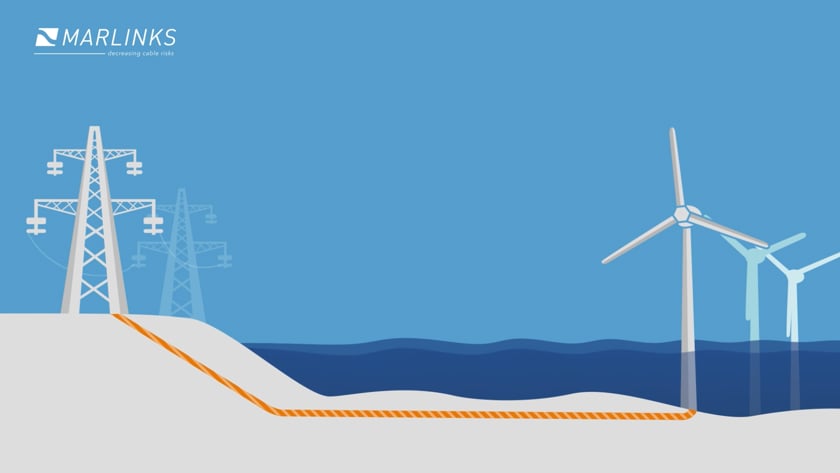 Continuously monitoring the depth of your subsea cables.
Our Depth of Burial service continuously calculates the burial depth of undersea power cables based on the measured ampacity, distributed temperature of the cable and types of soil. This results in an overview of overall depth of burial, adjustable alarms and historic analysis. All of which can be integrated in your SCADA system or made accessible through the stand-alone dashboard in any web browser. Act in time, reduce risks and save money.
Are you aware of how deep your power cables are buried?
Offshore wind farm owners and operators receive large amounts of data through their Distributed Temperature Sensing (DTS) device. It is hard and challenging to handle or interpret the incoming data to drive smart decisions that allows you to make timely and informed conclusions that maximize performance, secure energy transmissions, reduce costs, risks and lower your carbon footprint. Using Marlinks' software, we interpret your data and add on supplementary information to provide you with insights on your cable burial depth.
We take care of your
submarine power cables.
Get real-time actionable insights via the Marlinks dashboard.
Continuous depth of burial calculation has a clear advantage over periodic survey snapshots. If a storm dislodged your cable from the seabed, periodic surveys may take years to produce the evidence. With Marlinks' continuous depth monitoring, you will have received an alert within minutes.
Our dashboard furthermore also allows you to quickly pull a list of all sections of cable that are at risk of getting unburied and view each stretch on the map. You are able to alter the thresholds and granularity according to your risk appetite. You can download the custom reports at the click of a button for further distribution to relevant stakeholders within your company.
SUBMARINE CABLE MONITORING SERVICES
Discover our other Marlinks monitoring services.
Marlinks guards your offshore power cables and empowers you to take monitoring to a whole new level and puts all this data, analytics and insights at your team's fingertip. Enable your organization to keep risk low and save costs by making the right decisions. 
Do you have questions about our offshore power cable services or other Marlinks-related questions?